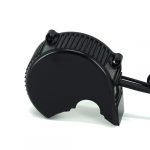 Bafang BBS02 36V 500W Controller (pre Apr. 2016)
$119.79 (CAD)
Bafang BBS02 36V 500W BBS02 Controller (pre Apr. 2016)
Description
NOTE: This product is sold without warranty. Please note that the controller in the BBS02 kit, is NOT the only thing that can fail in the BBS02 kit, although it is the most common point of failure. However, if a good controller is connected to a motor that has previously been overheated or has some sort of issue, it will cause the controller to malfunction and likely fail in a short time. It is strongly recommended that the motor windings are also inspected for signs of damage if your BBS02 kit develops an issue.
This is the older version of the BBS02 controller (they were updated in ~April 2016). The later version is a slimmer design and has a seal to aid waterproofing. We are not currently offering the later version of the BBS02 controller. Please see additional images to see details of the case.
If after fitting a new controller, the kit does not work as normal, stop and do some further checks. Please do not assume that we supplied a faulty controller because after you connected it, it made some funny noises, then stopped working after a short time. It is suggested that you at least do a visual inspection of the motor structure (opposite side of housing to the controller), looking for signs of overheating. A replacement controller will not fix burnt out motor windings!
NOTE: Also please note that the BBS02 controllers are easily damaged if programmed incorrectly. If you want to change the program settings, please do not expect them to be covered under warranty.
This a replacement controller intended for the 36V 500W, 25A Bafang BBS02. As can be seen in the images, the controller includes a section of the motor housing and all connnections. It may be necessary to change the battery supply connections, it does not come with the molded waterproof supply connection. The connections, housing etc do add quite a bit of cost, so it is relatively expensive.The sealed PCB makes them rather difficult to do a DIY repair, so it is much more practicle to simply swap the controller section.
The standard settings are as follows:
25A rated (lower settings are available, as per the option).
LVC (low voltage cut) 30V, suitable for 36V battery. Not suitable for 48V.
Will be configured so the throttle gives 100% assist no matter which assist level is selected.
Number of assist levels are adjustable by the display.
Wheel size can be adjusted from the display.
Speed limit can be set via the display.