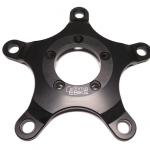 BBSHD Chainring Adaptor From California Ebike: Allows You To Use Compatible Chainrings
$106.33 (CAD)
Description
BBSHD Chainring Adaptor From California Ebike
We are very pleased to offer a range of BBSHD Chainring Adaptor From California Ebike. These come from our good friend Doug, from California-Ebike. These are produced in California and are a high-quality product.
BBSHD Compatibility
The California Chainring Adaptor will work with both the BBSHD kits. It is designed to give the customer more options for the BBSHD kit.
Adaptor Specifications:
Material: 6061 Aluminum, Black Anodized
Please note that there are no chainrings, nor chainring bolts, included with this adaptor.
BBSHD Chainring BA130 Adaptor From California Ebike
You can install HD130 Bafang BBSHD chainring adapter in place of the standard chainwheel supplied with BBSHD motor. This BA130 adapter will accommodate chain-rings from 38T to 55T with a 130mm BCD, or even a Gates carbon belt drive chain-ring.
---
Only logged in customers who have purchased this product may leave a review.