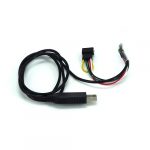 EB3 Infineon Program Lead: For Programming EB3 Infineon Controllers (Software included) – Do Not Connect To the CA3 PAS/Torque Connector
$13.50 (CAD)
Description
This is the EB3 Infineon program lead.
The EB3 Infineon programme lead allows the 6 fet, 9 fet, 12 fet, 18 fet and 24 fet EB3 Infineon controllers to be programmed via the USB cable. You must have a Windows laptop or desktop in order to programme the controllers.
Windows 10 is now supported through an updated driver.
The programme lead gives the customer control over many different controller functions and settings.
The necessary software and standard controller settings is included with the programme lead.
---
Only logged in customers who have purchased this product may leave a review.