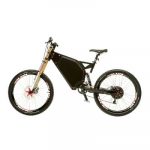 EEB Full Suspension Ebike Frame Package
From: $349.00 (USD)
Description
EEB Full Suspension Ebike Frame Package
EEB Full Suspension Ebike Frame Package with bicycle components, motor and battery pack options will get you nearly all the components needed to make a great ebike.
For a detailed description of the frame and various components offered in this listing, please look at the relevelant listings elsewhere on the site, there will be links for each component.
The EEB frame includes: main frame structure (including plastic covers, fittings etc), swingarm with integrated pinching torque arms, headset, 100mm bottom bracket, seatpost platform, seatpost clamp, plus all bolts washers and accesssories to assemble these parts together.
The basic frameset does not include: Seat post, seat, bars, suspension components, crank, chainwheel, gearset, wheels, motor or any electrical parts. These parts are offered as options in this listing.

Rear Shock

Model: DNM Burner-RCP2-S
Weight: ~0.9kg
Eye to Eye: 220mm to best match the EEB frame
Travel: 66mm (equivalent to ~200mm suspension travel when installed on the frame).
Damping:4-system
Adjustments: Rebound / Compression / Preload / Adjust high pressure
Coil spring: 650lb standard, 750lb 0ption (90kg, 200lb plus riders may prefer the stiffer stiffer spling, or take both and try for yourself)
Color: Black
Front Fork

Model: DNM USD-8