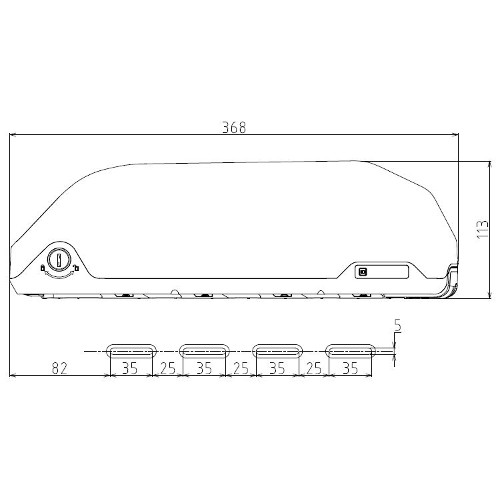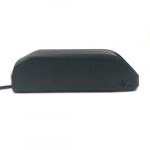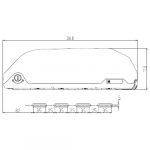 EM3ev 48V (13S5P) Jumbo Shark Ebike Battery
From:
(USD)
Description
The EM3ev Jumbo Shark does everything the EM3ev Super Shark does, only it's bigger, with more capacity and power:
We assemble ALL our batteries in our factory, using custom parts we design and then manufacture on our own CNC machines. We don't buy from Battery Pack Assemblers that sell at the lowest price to attract buyers, but then have to scrimp on everything, then assemble them as quickly/cheaply as possible, so they turn a profit. We don't take chances when it comes to our batteries or your safety!
We only source genuine A-grade genuine cells from the official sources.
Our EM3ev Jumbo Shark case has a different profile from the Hailong equivalent. This means you can fit this big capacity battery into smaller frames.
The EM3ev Jumbo Shark case is built and designed for 70 cells (the case itself is bought in from our preferred case maker). We were not willing to sacrifice safety and reliability by squeezing 70 cells into the Hailong case, that was only ever intended for a max of 65 cells, which is why we waited until a suitable case was available, before we offered our 52V EM3ev Jumbo Super Shark. The only way it was possible for others to offer a 52V battery in the Hailong case, was to discard the standard cell holders and glue the cells together. We now offer a 48V (13S) version using the same case as the 52V (14S) case.
Our EM3ev Super Shark uses an in-house designed and manufactured CNC cell holder which keeps everything safe, solid and secure. The quality and construction of the injection moulded case is also (in our opinion) far superior and the slider mountings are on a totally other level to the Hailong. The slider is solidly constructed and even has fixing points that match most water bottle mounts. No drilling holes or adding additional brackets to make it work!
Every cell in the pack is fused (just like almost all of the batteries we supply). We have been designing and manufacturing (in-house) our own battery terminations for several years already. Cell level fusing, means that in the event of an internal short circuit in the battery (which the BMS cannot protect against), then all that will happen is that some sacrificial links will safely open, preventing any of the cells or cabling from overheating and becoming dangerous. CNC spot welding ensures consistent weld quality and weld position. Safe by design!
We use a high tech, fully programmable Smart BMS, which is rated for genuine 40A continuous plus, with a programmable over-current trip set to >60A (which is ample for the intended application). With our BMS you can view various battery data, such as: cell voltage levels, temperature, instantaneous charge/discharge current, capacity (genuine SOC, measured Ah and remaining Ah), data log, error indication (on matching LED panel) and it all links to your phone with a continually updated and improved App. Our BMS balances during charging (when charging and when at >50% charge) and therefore doesn't require a full charge in order to balance. Auto power off function, auto power on and with a pre-charge function (no sparks, so long as the battery is powered off when linked to the controller).
A 2 wire type BMS such as ours, costs more (it requires more mosfets) than an equivalent 3-wire type, but it means that the battery can be ran in parallel with another equivalent battery and also means it is fully protected against over-charge (impossible with a 3-wire type BMS that are generally used in this application).We do have a battery parallel balancing device that can be used for running two batteries in parallel under all edge cases. The battery parallel balancing device works from 10S (36V) to 14S (52V). As long as the voltages of the two batteries are the same – eg. both are 14S etc. it will work with all cell types and capacities. The device has a max discharge current of 60A and regen is not permitted. Please contact us if you are interested in this device.
High current charge plug comes as standard (approx. 8A rated).
We do all this and offer it at our usual low pricing, we don't charge a premium for Safety and Reliability. Just because we offer low prices, it doesn't mean we don't stand behind our product if there is an issue. We have a proven track record of offering great after-sales support and warranty repairs/replacements. We will not leave you stuck (1 year Warranty, with several Support Centres World-Wide). Our batteries are designed to be easily repaired if the need arises.
The Shark style case is a popular choice, due to it's small size, for it's relatively high capacity. It's long, but sleek profile, means it can fit into most frames and it looks pretty good. However, it was not all good. The Hailong case that was used for most of the Shark batteries that are in circulation, suffered from several issues.
The issues on the Hailong case included:
There is space for a controller on the Hailong Slider. This controller (that is rarely even fitted) takes away valuable space from the battery. It also means that the slider mounting points do not align with the water bottle mounting points on most bikes (some will drill a hole through the controller and add an additional bolt, or even drill a hole through their bike frame..). The slider section on the Hailong is only thin plastic, with no metallic structure.
The tabs on the base of the case and the slider (these hold the battery to the slider) are very thin on the Hailong case (~2.7mm) and poorly supported/designed. Also, due to the Short length of the slider (due to the controller), there are only 6 tabs.
Thin materials used throughout the case, with little supporting structure. Typically, the material thickness is ~2.8mm.
The Hailong Case is designed for 52 cells (13 series, 4 parallel), which is commonly referred to as a 48V battery. In order to fit the additional cells to make it into a 14 series, 52V battery, the  standard cell holder must be discarded and the cells glued together. Without the cell holders, safety is compromised and the removal of the cell holder structure, will not help with the case's structural integrity.
Hailong cases were generally only supplied with a DC2.1 charge connector. These are rated 3A (which is not much for a battery that might be almost 14Ah in capacity).
These issues are all addressed in the EM3ev Jumbo Shark… and then some:
The controller case in the slider (that most do not even use) has been removed, freeing up space to make a 70 cell (52V) battery, without compromises. This 48V (13S) version uses 65 cells.
The slider on the Super Shark has a metal support and it has fixing points along almost it's entire length, so you shouldn't have any trouble to fit it to the standard bottle mounts on most bikes.
The tabs on the base of the Super Shark case are ~5mm thick and well supported. There are 8 of these stronger tabs and they are more evenly spaced along the entire length of the battery.
Material thickness is ~3.3mm or more and there are numerous supports within the case, to improve rigidity and strength.
The 13S EM3ev Jumbo Shark case is designed for 65 cells, including cell holder and BMS. We design and manufacture the CNC cell holder, so it is a snug fit inside the case.
We have designed and manufactured custom terminations for this layout, with cell level fusing on every cell, whilst also minimising voltage drop, to make the EM3ev Jumbo Shark 1 of the safest Ebike Batteries on the market (regardless of price).
We have fitted 1 of the most advanced BMS you will find in any Ebike Battery to keep the battery safe, performing 100%, to be reliable for the long-term and to give the user access to data for info and diagnosis.
Our Super Shark comes with a high current charge plug, rated for around 8A. Our 2-wire type BMS means you can actually safely charge through the discharge leads as well.
A little info about EM3ev and their Batteries
EM3ev builds battery packs (and design/manufacture most of the key component parts on our own high-tech machines). We have been assembling all our own battery packs since around 2011. We build our own battery packs, as we want to do things right, we want to do everything we can to make our batteries safe and we want to innovate. EM3ev packs are always conservatively/accurately rated with regards to both their capacity and the discharge current they can provide, which will help to ensure our packs provide a long and reliable service life.
On top of all this, we stand behind our products (1 year warranty). And WE WILL fix any issues that occur (with minimum inconvenience, no cost to the customer and no we do not ask customers to return parts to China!). Here at EM3ev, we are not about hype, spin and self-promotion, our reputation was built the old fashioned way, by happy/satisfied customers.
Em3ev Jumbo Shark 48V Ebike Battery Specs:
54.6V 2A (fan-less) or 5A charger (with fan) are optional extras. These are good quality chargers (very reliable in our experience). (The charger may differ from the images shown).
We conservatively rate the cells as 2.95Ah (INR18650-30Q), 2.95 (LG HG2), 2.85Ah (Panasonic PF), 3.4Ah (35E).  Although the makers classes them a little higher than this. Like with any Li Ion type battery, best long term performance is obtained by not using all of the available capacity all of the time, and also, by not using the pack at high discharge rates which will cause excessive cell heating and premature aging.
Cycle Life estimated at 500-700 cycles plus (1C discharge to 2.75V, 1C charge to 4.2V). Cycle life is extended by charging to 90%, limiting discharge to 90%. Our 5A charger has a switch for either 90% or 100% charge, or choose the Satiator for even more control. Our BMS doesn't need a full charge to balance the pack, it will happily balance the pack with only 80 or 90% charge.
Cycle Life will be reduced if the Pack is regularly used at continuous high discharge rates (our BMS does have over-temp protection if the battery gets too hot and the battery temperature can be seen in the BMS App). Therefore, please match the battery pack to the rest of the kit to get the performance and long term usage you expect (see our suggested max discharge current below, for our recommendations).
Recommended Max Discharge Current for each Cell Type of the Em3ev Jumbo Shark 48V Ebike Battery:
Panasonic PF: ~29A Continuous, 38A Max Burst Current
Samsung 30Q: ~38A Continuous, 55A Max Burst Current
LG HG2: ~ 44A Continuous, 55A Max Burst Current
Samsung 35E: ~25A Continuous, 34A Max Burst Current
Panasonic GA: ~25A Continuous, 34A Max Burst Current
Samsung 25R – 49A Continuous, 55A Max Burst Current
Please note we recommend a max of no more than 50A for the BMS. The trip current is set just above 60A. 
Note: the cell manufacturers specs are higher than our recommendations above. It will not harm the battery to occasionally discharge at higher levels than our recommendations, but regular, sustained high discharge rates will degrade the battery more quickly and the battery voltage will sag at these high power levels. The Battery BMS is programmed to trip if cell temperatures reach 60degC during discharge and 45degC during charging.
Capacity Specs for each Cell Type of the Em3ev Jumbo Shark 48V Ebike Battery:
Panasonic PF: 46.8V nominal, 14.3Ah, ~669Whrs.
Samsung 30Q: 46.8V nominal, 14.8Ah, ~693Whrs.
LG HG2: 46.8V nominal 14.8Ah, ~693Whrs.
Samsung 35E: 46.8V nominal, 17.0Ah, ~796Whrs.
Panasonic: 46.8V nominal, 17.0Ah, ~796Whrs.
Note: the above figures are on a new battery in warm weather and at a discharge rate of ~0.5C. Cold temperatures or high discharge rates will result in reduced capacity. Capacity will degrade over time and usage. 48V batteries are not actually 48V. They are 46.8V as they use 13 series of 3.6V nominal cells (13*3.6V = 46.8V).
Em3ev Super Shark 48V Ebike Battery Weight and Dimensions:
Maximum dimensions of: 88mm thick. 113mm tall, 368mm long (See the outline drawing in additional images, for details). Please allow about 18mm forwards and 8mm upwards for the battery to clear the slider that attaches to the water bottle mounts.
Weight: approximately 4.7kg for all cell types (including slider). We do not recommend that the battery is fitted upside down. If there is no choice to fit the battery in this manner due to frame design then it would be highly advisable to use additional straps to secure the battery. We do not condone the use of the battery in this manner.
---
Only logged in customers who have purchased this product may leave a review.