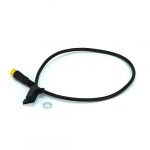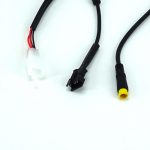 Generic Ebrake Sensor (for Hydraulic Brakes)
$0.00 – $2.00 (USD)
Description
This ebrake sensor is a reed switch with magnet. When the magnet is near to the sensor, the ebrake is inactive (motor runs). When the magnet is moved away from the sensor, the ebrake activates (motor power is cut). The device can be easily fixed to the underside of either hydraulic brake levers, or mechanical brake levers, using the included double sided tape, the unit is very compact. The Magnet is fixed to the moving brake lever and the sensor appropriately located on the stationary, mounting bracket.
Note: This version of the Ebrake Sensor is sold plug and play for the Bafang BBS01/02 kit (latest version, using 3 pin Higo plug with Yellow insert) and is also available with plug and play connections for either the V3 CA, or our older Infineon Controllers. The sensor is sold as a single unit, not a pair.
---
Only logged in customers who have purchased this product may leave a review.