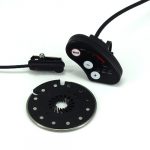 PAS Controller/Display With Sensor (Chain-line Side)
(CAD)
Description
PAS Controller/Display With Sensor
The PAS Controller/Display With Sensor enables the PAS assist level to be adjusted precisely giving much more control of the PAS function than you have when the PAS sensor is directly connected to the controller. The Sensor type has now been upgarded to the King Meter, easy installation type Sensor, as shown in Additional Images.
Includes pre-connected PAS Controller/Display with matching PAS sensor for direct connection to the Infineon Controller (connects to a standard CA-Plug).
Adjustable PAS assist levels.
The PAS Controller/Display works by detecting the PAS signal, interpreting it and outputting a throttle signal to the controller. This way, PAS the display can control the PAS assist level precisely, especially useful for fast, high powered ebikes, where the standard PAS sensor into the controller, often results in an all or nothing assistance level.
When combined with the 3 speed switch function on all EM3ev Infineon controllers, you have more adjustment possibilities than you will ever need.
Please note that the PAS sensor will only work on the chain-line side.
Note: Please select the correct voltage (36V or 48V are available). These displays will work only for 1 battery type, they are not dual voltage. The wiring for the display and sensor connects to a standard CA Connection. This display cannot be used together with a V2 CA. If you required PAS function with a Cycle Analyst, you should use the CA3 and suitable PAS device.
---
Only logged in customers who have purchased this product may leave a review.