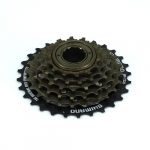 Shimano 6 Speed 14T Freewheel: A Good Choice For Tight Clearance
$0.00 (USD)
Description
Shimano 6 Speed 14T Freewheel
The Shimano 6 Speed 14T Freewheel is a 6 speed Shimano freewheel that is a low cost option that can be used on a rear hub motor which doesn't have the space for a 7sp.
The 6sp is only 32mm wide versus 36mm for the 7sp and 40mm for the 8/9sp freewheel. The 6sp has the same gear width, chain size and gear spacing as the the 7 and 8sp, so the smaller 6sp can be subtituted as long as the rear changer is suitably adjusted.
Shimano 6 Speed 14T: Recommendations
The DNP extractor tool is offered as an option, it also works with this model Shimano as it is longer than the standard tool used by other manufacturers. The DNP also has a larger hole allowing fitment with over-sized Hub Motor axles.
Shimano 6 Speed 14T Freewheel Spec:
6sp, 14-28T, 32mm wide, 0.38kg