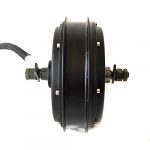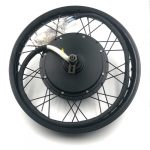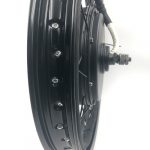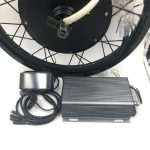 5KW QS V3 Rear Direct Drive Hub Motor: The High Performance Motor
From: $379.00 (USD)
Description
5KW QS V3 Rear Direct Drive Hub Motor
Our 5 KW rated V3 QS rear drive hub motor is the perfect choice for those looking for great performance in a heavy-duty hub motor.
5KW QS V3 Rear Direct Drive Hub Motor: Powerful Performance
With a 3.5T winding the 5KW V3 QS motor can reach a max speed of ~80KPH at 72V (19″ moto/moped tyre). This is a very large motor, perfect for the EEB frame, with a dropout width requirement of 150mm and a weight of 12.8kg for the bare motor. The 16 pole-pair motor has an aluminium stator that is 50mm and a max torque of greater than 220 Newton metres with a peak efficiency of 89.8% and 10mm2 phase wire. It has an IP rating of IP54.
5KW QS V3 Rear Direct Drive Hub Motor: Motor Wheel Build
The 5KW motor includes a choice of a 17″ (1.6″) or 19″ (1.85″) moto/moped wheel build with 10 gauge spokes. Moto/moped tyres are not included. The rims are black in colour.
5KW QS V3 Rear Direct Drive Hub Motor: Summary
5,000W of peak power (5.7KW at 72V with an 80A Controller)
Axle 10mm flats with M16 thread
2 sets of Hall sensors for redundancy
16 pole-pair motor
50mm stator
Max torque of > 220Nm
Max phase current of 300A
Disc Brake Compatible
10mm2 Phase Wire
Temperature Sensor
12.8kg bare motor weight
---
Only logged in customers who have purchased this product may leave a review.