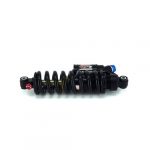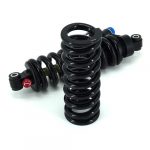 DNM Burner-RCP2-S Rear Shock (750LB Spring Fitted)
$149.00 (USD)
Description
DNM Burner-RCP2-S Rear Shock
The DNM Burner-RCP2-S Rear Shock is a solid rear suspension option for the EEB frame.

DNM Burner-RCP2-S Rear Shock Info:
Model:
– DNM Burner-RCP2-S
Weight: ~0.9kg
Eye to Eye: 220mm to best match the EEB frame
Travel: 66mm (equivalent to ~200mm suspension travel when installed on the frame).
Damping:4-system
Adjustments: Rebound / Compression / Preload / Adjust high pressure
Coil spring: 750lb spring fitted for (90kg, 200lb plus riders who may prefer the stiffer stiffer spling)
Color: Black
Accordingly to our supplier, the RCP3 is no longer being manufactured. We are now offering the RCP2-S which is made in Taiwan.