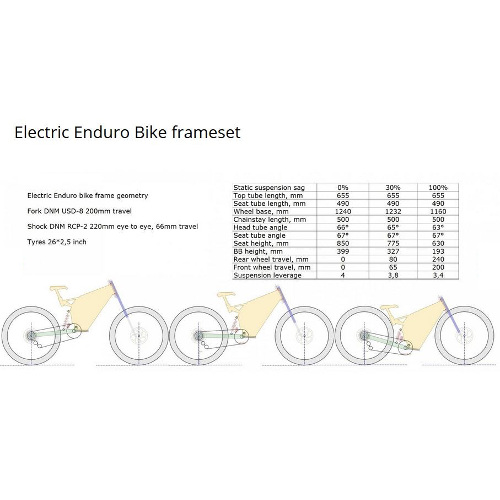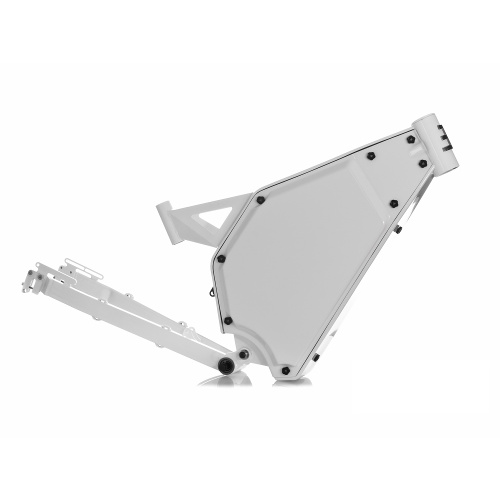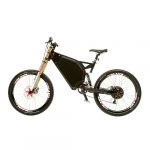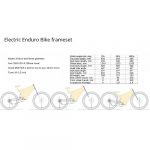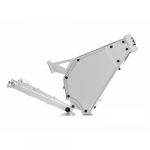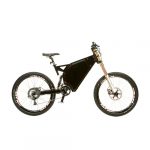 EEB Full Suspension E-Bike Frame
$349.00 (USD)
EEB Bare Frame in White or Black
Description
EEB Full Suspension E-Bike Frame
The EEB Full Suspension E-Bike Frame is a dedicated full suspension, steel Ebike frame. The EEB makes a great basis for a high power ebike. There is a very large battery enclosure, full suspension, with strong and wide rear dropout (~155mm) with integrated torque arms. The frame is not super light, at ~10kg, but it is strong and built to accept high power ebike parts and be stable at high speeds. It is also very reasonably priced and really looks nice, once some nice chunky parts have been fitted to it.
We will be offering packages and custom built batteries for this frame in the near future. I can honestly say, that i am very excited about this frame, it is a pleasure to ride. Once you have a few KW of power driving that rear wheel, it is so fun and it really feels rock solid and soaks up those high speed bumps so well, even with the fairly low end suspension components our demo bike is running. At 500USD plus shipping etc. it makes a a very compelling argument, compared to buying, then modifying a middle to higher end regular bike.
EEB Full Suspension E-Bike Frame: Product Description
The EEB frame was planned from the outset to be a High-Power E-bike frame. It combines a strong structure, with high strength pinching dropouts for high power hub motors. It offers the comfort and stability of long travel full suspension and a large enclossure to house a very large battery. Whilst the frame could be used as pedal assist type ebike, it was primarily intended to be strong enough and have the stability to deal with the speed and abuse that a multi-KW hub-motor system requires.

The Frame's design goals are:
– durability;
– versatility in the selection of bicycle components;
– maximum space for the accommodation of batteries;
– safety and it looks cool.
EEB Full Suspension E-Bike Frame: What's Included?
One frameset includes: main frame structure (including plastic covers, fittings etc), swingarm with integrated pinching torque arms, headset, 100mm bottom bracket, seatpost platform, plus all bolts washers and accesssories to assemble these parts together.

EEB Full Suspension E-Bike Frame: What's NOT Included?
The frameset does not include: Seat post, seat, bars, suspension components, crank, chainwheel, gearset, wheels, motor or any electrical parts.

EEB Full Suspension E-Bike Frame: Key Points

Weight – 10kg with all bolts and plastic (shipping weight 12.7kg, equivalent volume weight is ~20kg).
Materials – 2mm Q235A steel tubes, 4mm ABS+PMMA plastic, high strength steel bolts and aluminum anodized bolts for side covers.
Colour options – Black frame with Red Anodised Bolts, or White Frame with Black Bolts.
Battery Compartment – 140mm internal width, 148mm external width. Detailed internal dimensions can be seen in additional images. Max recommended battery weight is 17kg.
EEB Full Suspension E-Bike Frame: Bike Info
Rear Shock – Compatible with rear shocks with length of 190-240mm (axle to axle), but recommended length is 220mm. Recommended coil spring, 650-750lbs (for riders 90kg, 200lb plus, consider the 750lb spring). 240mm shock length is best only used for smaller wheels (such as 17-18 inch moto). Shock mount width is 24mm.
Front fork – A strong Mountain Bike Fork with 130-200mm travel is recommended. Compatible with tapered and non-tapered steering tube . Headtube length 130mm.
Rear Brake – Standard bicycle IS mount. Can be used with 160-225mm brake disc.
Derailleur – Standard M10x1 threaded hole for installation of a standard derailleur.
Seat – Recommended Seat Post diameter is 31.6mm.
Headset – Headset is included. High Quality semi-integrated, sealed bearing, original Taiwan VP Components J305AC(S) headset, compatible with standard bicycle 1,1/8 and also tapered forks (two different bottom rings included).
Bottom Bracket –  Square Taper 100/145mm BC-63 VP Components BB included (standard bicycle 34mm thread, 100mm width, as used on Fat Bikes).
Dropout –  156mm Dropout width. Can be be used with motors from 135mm, up to 155mm axle width. Spacers can be added to motors with shorter axles to fill the dropout. When doing this, consideration to the appropriate spacing for the freehweel (if freewheel is too inboard, the deraileur will not be able to reach the lowest gears), disc alignment with the caliper and keeping the rim centred. It would be necessary to add disc spacers, as well as axle spacers, to make this work.
Wheels – Intended for 26″, but can also be used with smaller bicycle wheels (24″ wheels with 3″ tyres looks really cool), or even 17-19 inch motorcycle wheels. Up to 3″ wide tyres (varies depending on the wheel size).