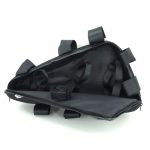 EM3ev Triangle Battery Bag
$25.00 (USD)
EM3ev Triangle Battery Bag
Description
Our custom EM3ev triangle bags offer a convenient and cost effective way to mount a battery within the frame of a typical bicycle frame. The bag is approximately 80mm wide/thick, other dimensions as shown in the pics, 43cm along the top and 26cm high. Internally the bag is generously padded where it sits on the bicylcle tubes. 3 internal velcro straps are fitted. A fleece lining allows an additional velcro strap (1m included with every bag) to be used to additionally secure items inside. 2 cable access points are fitted at the front and at the top rear of the bag. Side panels are also padded. A long zip makes it easy to fit a battery which fills the bag completely. A total of 8 extra long velcro straps secure the bag to the frame.
Please Note, this bag is intended to be fitted into a regular triangle frame, where the downtube will support the weight of the battery. The upper straps alone will not support a heavy battery, it may cause the bag to tear and rip if you try to do so. The upper straps should not be so tight, so that they are supporting the battery weight, only tight enough to stabilise the bag in the frame. If your frame is much larger than the bag, some additional material under, or on top of the bag may improve the installation.
---
Only logged in customers who have purchased this product may leave a review.