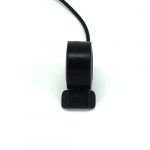 Right Thumb Throttle (Type 1)
$10.00 (USD)
Description
Our Right Thumb Throttle (Type 1) is a simple and compact Thumb Throttle. Whilst it is intended to be used on the right ride, it can also be used on the left side too.
If you want to use this on our EM3ev Infineon controllers is is recommended you order the 3 speed and power switch in a set to ensure the correct connections.
Note:
When this throttle is used with our EM3ev Infineon Controllers, it really should be combined with the 3 speed Switch and also the Power Switch. If you do not use the 3 speed switch or link the necessary connectors, the controller will be fixed to speed 2 only. It is also strongly recommended that the Bar mounted power switch is used as the spare push button on the power switch is then used for Cruise enable.  If the cruise function is used, it is also strongly recommended that some form of ebrake is used as this kills the cruise. Without some way to kill the cruise function, it could cause a serious safety issue in an emergency.
---
Only logged in customers who have purchased this product may leave a review.