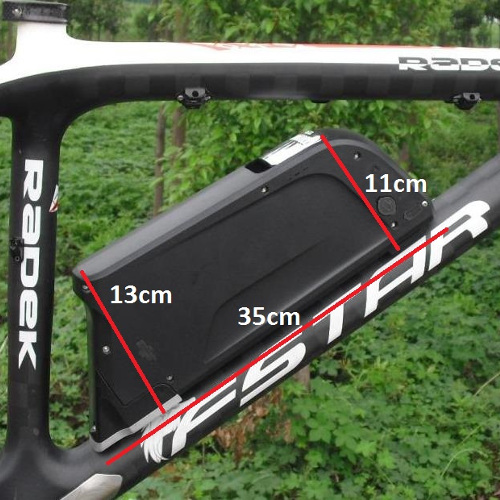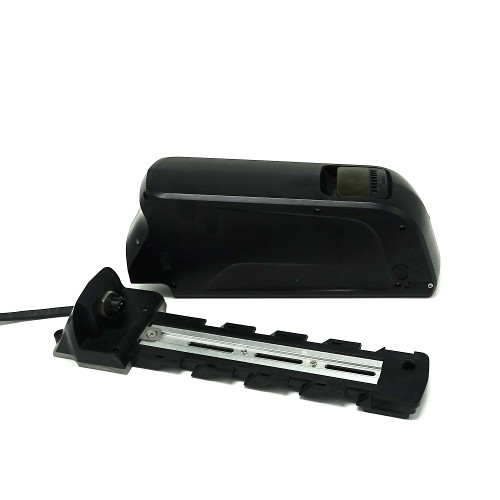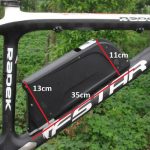 EM3ev 36V Frame Pack Ebike Battery (10.5Ah-20.4Ah Options)
From: $0.00 (USD)
Description
The EM3ev 36V Frame Pack Ebike Battery
We now are fitting the 36V frame battery pack with a Smart BMS. The Smart BMS allows the cell group voltage, temperature and battery capacity percentage to be monitored via an Android app through a Bluetooth connection. The Smart BMS will balance the cells even at a 90% charge.
Note: Batteries must be Shipped, using a Battery Shipping Option, we cannot use regular DHL or any other non-battery option. If your order includes a battery, please checkout with an option starting with the word "Battery" if there is such an option available. Additional shipping costs may be required if there is not a suitable option listed or if an unsuitable option is selected. Please note most batteries are built to order, which typically requires 7-14 days to complete, prior to shipping.
EM3ev 36V Frame Pack Ebike Battery Format
We can build our 36V frame battery pack in either 10S 5P or 10S 6P.  There are also a choice of 3 cell types currently available. This means the capacity is from 10.5Ah, up to approx 20.9Ah, depending upon the internal layout and cell type used. These frame mounted packs are lockable, water resistant and have a USB charging outlet.
There is also a simple battery level LED indication and the battery has a power switch which has an LED to indicate when power is on. This power switch does not pass the discharge current, it only switches the BMS output on/off. This means a Pre-charge is not necessary for this battery, and means the switch is not liable to failure, as is so common on packs that pass the discharge current through a switch.
| Cell Type | Capacity (Ah) | Capacity (Whrs) | Max Cont. Current | Max Burst Current | Weight |
| --- | --- | --- | --- | --- | --- |
| Standard 22P (10S5P) | 36V 10.5Ah | 378Whrs | ~21A | ~30A | 3.6kg |
| Standard 22P (10S6P) | 36V 12.6Ah | 454Whrs | ~25A | ~30A | 4.1kg |
| High Energy PF (10S5P) | 36V 14.3Ah | 515Whrs | ~29A | ~30A | 3.8kg |
| High Energy PF (10S6P) | 36V 17.1Ah | 616Whrs | ~30A | ~30A | 4.3kg |
| High Energy 33G (10S5P) | 36V 15.5Ah | 558Whrs | ~24A | ~30A | 3.8kg |
| High Energy 33G (10S6P) | 36V 18.6Ah | 670Whrs | ~28A | ~30A | 4.3kg |
| High Energy MJ1 (10S5P) | 36V 17.0Ah | 612Whrs | ~25A | ~30A | 3.8kg |
| High Energy MJ1 (10S6P) | 36V 20.4Ah | 734Whrs | ~30A | ~30A | 4.3kg |
| High Energy 35E (10S5P) | 36V 17.0Ah | 612Whrs | ~25A | ~30A | 3.8kg |
| High Energy 35E (10S6P) | 36V 20.4Ah | 734Whrs | ~30A | ~30A | 4.3kg |
The cells that we use are bonded into a pack using a special RTV. This has a high insulation resistance, which is flexible but also very strong. All signal cables are terminated via a PPTC as with all our packs to protect against a short. Even a dead short on the BMS Signal wires will not cause a hazardous situation. 4mm bullet will be fitted to the cables exiting the slider as standard. The slider is easily mounted to the frame using the water botlle mountings.
EM3ev 36V Frame Pack Ebike Battery Specification:
42V 2A fan-less plastic case charger is an optional extra. These are a good quality charger (very reliable in our experience) with UL and CE. (may differ from the charger shown in some images).
We conservatively rate the cells as 2.1Ah each (SDI-ICR18650-22P) and 3.15Ah (SDI INR18650-32E),
and Panasonic PF (NCA 2C recommended Max, 3C Max burst current ~2.85Ah) although the maker classes them a little higher than this. We find that, like with any Li Ion type battery, the best long term performance is obtained by not using all of the available capacity all of the time. It is possible to use the high power INR18650-25R cells (8C rated) and 30Q cells (5C rated) for this pack if requested, but due to the limited discharge rate available from the BMS (which is fixed), we considered it a combination that doesn't make so much sense.
Cycle Life estimated at 700 cycles plus (1C Discharge to 2.7V, 1C charge to 4.2V). The cycle life is extended by charging to 90% and limiting discharge to 90% and also by more moderate usage. To accurately limit discharge the Cycle Analyst is a great tool.
PPTC thermal fuses used on all signal wires. If a fault were to ever occur on any of the small balance wires which run around the battery pack, the fuse simply shuts down the connection and keeps everything safe. The battery function will return to normal once the fault is removed.
Maximum Charge Current 3A max (BMS has a 3A PPTC fitted for protection and also the DC2.1 Charge plug used, is rated 3A max).
Maximum dimensions of: 85mm thick. 130mm tall, 350mm long. See labelled picture in additional images for detailed information, as it has a complex shape.
Weight: 10S 5P, 22P – 3.6kg, 10S 6P, 22P – 4.1kg, 10S 6P, 32E – 4.3kg, (including slider).
Lead-Times For Battery Pack
If we don't have the battery pack already built in stock, the lead time is approx. 5 to 7 working days for us to build one once the order has been placed. We have streamlined our building process and the lead time is now 3 to 4 working days.
---
Only logged in customers who have purchased this product may leave a review.