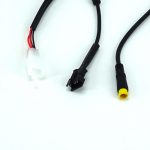 HWBS Ebrake Sensor
$10.00 – $12.00 (USD)
Description
The HWBS Ebrake Sensor allows any mechanical brake (with cable, not suitable for hydraulic brake) to be used as an ebrake. No need to swap brake levers, keep your existing levers. Sold as a single unit, not a pair.
Note: May require some small mods to your existing ebrake connnection, as this sensor uses 3 wires: 5V, signal and 0V. An adaptor to connect the HWBS Ebrake Sensor to an EM3ev Infineon is available as an option (requires a small mod to the Infineon controller wiring). They are also now available with matching Higo Plug for BBS01/02 kits. Cable length is 1.5m.
The HWBS is directional; it will only work in one direction. The red LED light will be lit when the ebrake is activated i.e. the brake lever pulled.
---
Only logged in customers who have purchased this product may leave a review.