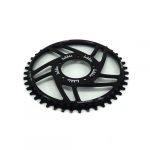 BBS01/02 Chainwheel
$10.00 (USD)
Description
The Lekkie range of BBS01/02 Bling Rings are a very nicely built, CNC, anodised Chain Wheel. The Lekkie 42T BBS01/02 Bling Ring design combines the smallest possible drive ring (42T), whilst also maintaining the correct chain-line (better than standard apparently). There are now also a 46T and 52T with better than standard chain line. There is also a smaller 36T, but this doesn't have as good a chain line as the standard chain wheel.
All Bling Ring chain wheels use a thick tooth/thin tooth design (also known as the wide/narrow design), which improves chain retention. As an added bonus, it looks cool (way nicer than the standard pressed steel with plastic cover arrangement) and is very light too. 
If you want to personalise your BBS equipped-bike; drop the functional, but not so beautiful, standard chain-ring; and also improve performance – then the Lekkie Bling Ring might be for you.
Lekkie BBS01/02 Bling Ring Specs:
CNC 42T Bling Ring chain ring for the BBS01 or BBS02 motors. A smaller chain-ring allows the motor to spin faster and more efficiently when used on steep inclines.
CNC 46T and 52T also now available with similar offset and better than standard chain line.
CNC 36T offers even more toque, for better hill climbing, but the design means that the chain line will not be as good as the standard factory chain wheels.
Machined with a Narrow Wide Deep tooth pattern the Bling Ring aims to eliminate chain derailment and reduce tooth ware.

Machined from 7075 Aluminium and T6 temper hardened for a long life.




Anodized Royal blue, gold or black.

Suits up to 11 speed cassettes.

Lightweight, only 86-180g for the Lekkie range, versus ~400g plus for a standard Drive Ring (size dependent).

36T(01/2) – 86g
42T(01/2) – 148g
46T(01/2) – 174g
52T(01/2) – 180g

Most importantly, it looks cool.
Add some Bling to your ride 🙂