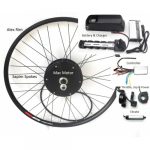 Upgrade Mac Ebike Kit with 48/52V Battery Option (~1500W Max)
From: $0.00 (USD)
The Mac hub motor offers excellent torque and power handling in a compact and lightweight design (relative to it's capabilities). We offer a complete kit, with quality wheel build, quality controller/accessories and our own in-house built EM3ev battery.
Description
Upgrade Mac Ebike Kit with 47/50V Battery Option (~1,500W Max)
Wheel Builds require typically 7 days to complete, prior to shipping. Mac Motors are partially disassembled to reduce shipping volume for DHL shipping (but can be shipped fully assembled if we use regular post, or pay the additional cost to ship via DHL). The assembly is quite straightforward and takes only 2-5 minutes.
The Front Wheel version of the Mac motor is quite tight to the fork on the non-disc side of the motor. Please refer to the drawings listed below to confirm the motor outline will match your fork.
Drawing of 135mm Cassette Mac
https://1drv.ms/b/s!AgXNuMx0hAiShrxSyzX4flnIU63Uig?e=Sc6HeH
Drawing of 135mm Rear Freewheel Mac
https://1drv.ms/b/s!AgXNuMx0hAiShrxRMJVhHQiCFwZg0w?e=ZbNIIO
Drawing of 170mm Rear Freewheel Mac
https://1drv.ms/b/s!AgXNuMx0hAiShrxQG4g0PQzNgMQIoA?e=YW0sbP
Drawing of 100mm Front Mac
https://1drv.ms/b/s!AgXNuMx0hAiShrxPEaFEZs9Sb59JtA?e=0mgiV3
Upgrade Mac Ebike Kit with 47/50V Battery Option Includes:
Upgrade Mac motor (includes upgrade stator and temp sensor) in a built Alex wheel rim of your choice using 13G Sapim Spokes.
25A 6fet 3077 Programmable Infineon Controller with matching throttle, 3 speed and Cruise, as well as a bar mounted power switch and a choice of ebrakes.
50V Triangle Pack and 5A charger with a choice of Capacity Options.
Interconnections between the Motor, Controller, all Accessories and the Battery are plug and play.
The combination of controller, battery and motor have been selected to ensure all parts are suitably matched and working within the recommended limits. Instead of offering choices for motor windings, we have offered a range of typical cruising speeds that can be expected on the flat. We will try our best to provide a motor that will meet or exceed the requested speed.
Upgrade Mac Ebike Kit with 47/50V Battery Option: Additional Recommendations
There is limited space for the Disc Brake Calliper when using the Mac Motor (19.5mm clearance only). This means that many better quality and/or Hydraulic Disc Callipers may foul the Motor. So we offer a 2.5mm thick disc spacer to enable more clearance. Another option is to convert to 203mm Disc. With a larger Disc installed, the Calliper can clear the hub and avoid these clearance issues. See: Mac 500W Rear Motor Outline and Mac 500W Front Motor Outline.
Please ensure you understand this point and take measures to overcome any possible issues.The freewheel version of the Mac motor uses a screw on freewheel, it cannot use a cassette.  The 11T DNP are popular as it allows you to pedal to a higher speed. The Mac can accept a 7 speed freewheel without any additional spacers (135mm axle width). If 8, 9 or 10 speed are used, a spacer of ~4mm is required and the axle width will increase to ~139mm (spacer will be provided). Difference between a Freewheel and a Cassette.
Upgrade Mac Ebike Kit with 47/50V Battery Option: Torque Arms
A Torque Arm is not absolutely essential at this power level for the freewheel version, but they are recommended. We offer the full range of Genuine Grin Tech TAs (manufactured in Canada). Choose the appropriate TA according to your motor choice (Front/Rear) and the design of the Fork. See:Rear Rev4, Front Rev3 and Front Rev2 designs.
A motor spin-out on a front hub motor installation can be particularly unpleasant. Therefore, some will opt for dual front TAs. It is recommended only steel front forks are used for a Front Hub Motor installation. A suitably constructed DIY Torque Arm is fine. We only recommend you consider this point and take suitable precautions to avoid a motor spinout.
Upgrade Mac Ebike Kit with 47/50V Battery Option: The CA3 and PAS
When the Upgrade Mac kit is combined with the V3 Cycle Analyst it opens up further possibilities. You can have Motor Temperature Monitoring and Power Rollback if motor temperature exceeds a programmed limit. It also allows various control functions and PAS Assist devices/modes when combined with the appropriate PAS Device. V2 CA is a simpler device that can still allow on the fly speed, current or power limiting to be accomplished.
Customers can have more control over the PAS function with the PAS Display/Sensor. This is compared to connecting the PAS directly to the controller. See listing here for more info.
See the Individual Parts Product listing for More Info On Each Item
Shimano M355 Hydraulic Brake Levers Ebrake Sensor
Throttles, ebrakes and switches
Ebike Displays
Infineon Controllers
47V Preditor Battery Pack Including Dimensions
47V 4P EM3ev Super Shark Including Dimensions
47V 5P EM3ev Jumbo Shark Including Dimensions
50V 4P EM3ev Super Shark Including Dimensions
50V 5p Rectangle Battery Pack Including Dimensions
50V 7p Rectangle Battery Pack Including Dimensions
50V Triangle Battery Pack Including Dimensions