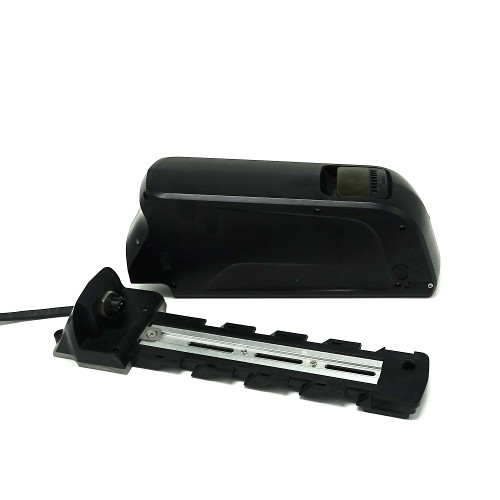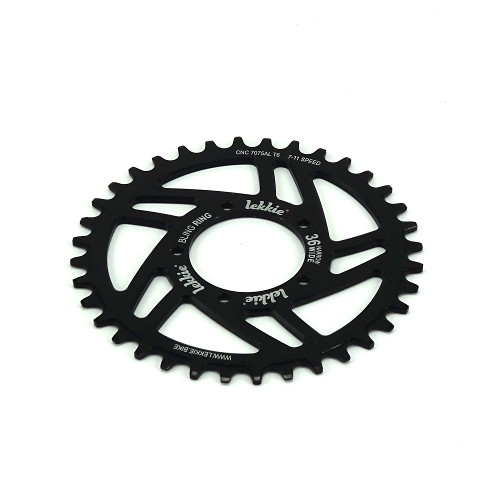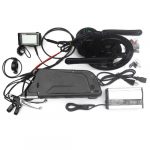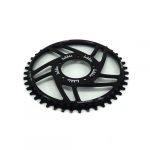 Bafang 36V 250-500W BBS02 Ebike Kit With Battery Option
From:
(USD)
The Bafang 250-500W BBS02 kit is a powerful and nicely put together middle motor, that can easily be installed onto many bikes (68-73mm Bottom Bracket is required).
Description
Bafang 36V 250-500W BBS02 Ebike Kit

The Bafang 36V 250-500W BBS02 Ebike Kit with ebike battery pack option 
We no longer have any kits marked as 250W, but we can provide 250W labels. So, you can have the more powerful and robust 500W kit, and have it detuned to 250W or 350W power levels, as you require. Or run it at the full 25A and have the 500W rating (~900W Max input power) if preferred.
All our stock is the latest version, with the revised case design and with GearSensor connector.
The Bafang 36V 250-500W BBS02 Ebike Kit includes the following.
This listing is for a 36V 250W, 350W and 500W kit.
Motor with integrated 25A controller.
Additional GearSensor connector on motor.
44T chainwheel and pedal arms (does not include pedals).The customer should use a relatively small chainwheel if they use the kit in hilly areas.We have larger chainwheels available here.
We also offer the 42T Bling Ring. This is in our opinion the best chainwheel available for the BBS02. It offers better than standard chain line alignment and a large tooth, small tooth design, which helps to retain the chain.
Waterproof interconnecting cabling.
A choice of the premium throttles offered by Wuxing. You can find the various throttle options details in this section.
Pair of ebrakes for cable pull brakes or a choice of ebrake sensors, for cable pull or hydraulic brakes.
We offer a choice of LCD displays. The C965 allows 60km/h while the DCP14 allows 99km/h.
We emphasise that the 36V kits can only be used on a 36V battery. The 36V kit absolutely cannot be used with a 48V battery (31V LVC). It also cannot be used with an 11S (39.6V nominal) battery pack.
We are able to adjust the controller software. We ship the kits with the throttle configured for full power in all assist levels (including 0). There are also many user adjustable settings available in the display. The BBS02 is a more powerful version of the BBS02, which has a larger motor structure, with a fster winding, and can deliver higher power levels than the smaller BBS01. See below links to view documentation on the kit and display.
Summary: What's Included as Standard
The motor along with the controller
Mounting hard-ware (the 68mm version includes additional longer bolts and spacers for 73mm BBs – these additional items are for the triangular mounting bracket)
E-BUS Harness
Speed Sensor
Factory Cranks
Additional GearSensor Connector – straight from the motor
A choice of chainwheels – this is a mandatory option
A choice of displays – again, this is a mandatory option
Summary: What's Not Included
Battery
Battery charger
Throttle
Ebrakes
GearSensor
Installation tools
Bafang 36V 250-500W BBS02 Ebike Kit Settings
The standard settings are as follows:
25A max current.
LVC (low voltage cut) 31V, suitable for 36V battery.
number of assist levels are adjustable by the display.
The customer can adjust the wheel size using the display.
The customer can also set the speed limit via the display, it is not possible to completely remove the speed limit, but you could set the wheel size to be smaller than it really is, to trick the kit into measuring a lower speed and effectively increase the speed limit. Of course the indicated speed will no longer be correct and this 500W kit is only really powerful enough to reach speeds in the region of 50km/h on the flat.
Information on Bafang 36V 250-500W BBS02 Ebike Kit:
Bafang BBS01/02 Mid Drive Kit Manual
The Bafang C965 Display Manual (3 button type)
Bafang C965 Display Manual (5 button type)
These manual include how to get into the settings and advanced settings menus to change various parameters.
DCP14 TFT Colour Display Manual (our displays are setup with 99km/h max speed limit).
The Eggrider OLED Smart Display is a great choice as it offers Smartphone integration as well as precise info on how your motor is performing with graphed data. It has a whole lot of other features, such as adjusting performance on the fly, that makes this the choice display for the BBS kits.
Installing BBS01/2 onto a 73mm BB Frame
Here you can find out more info on the BBS02 Chainring adaptor.
Lead-Times For Battery Pack
If we don't have the battery pack already built in stock, the lead time is approx. 5 to 7 working days for us to build one once the order has been placed.
See the Individual Parts Product listing for More Info On Each Item
Shimano M355 Hydraulic Brake Levers Ebrake Sensor
Throttles, ebrakes and switches
36V Frame Battery Pack Including Dimensions