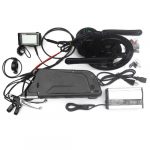 Bafang 48V 750W BBS02 Ebike Kit With Battery Pack Option (~1200W Max)
From:
(USD)
The Bafang 750W BBS02 kit is a powerful and nicely put together middle motor, that can easily be installed onto many bikes (68-73mm Bottom Bracket is required).
Description
Bafang 48V 750W BBS02 Ebike Kit
The Bafang 48V 750W BBS02 Ebike Kit with ebike battery pack option
EM3ev were the first company to have high quality IRFB3077 mosfets installed into their 750W BBS02 Kits. This was back in June 2015. This is when we finally managed to convince Bafang to fit some mosfets, that we supplied to them back in the spring of 2015. Bafang quickly realised this modification made a big improvement to the controller reliability. As a result they fitted the same IRFB3077 mosfets into all the 750W BBS02 kits they manufactured from then onwards.
We had no desire to make a big deal about this fact, at least not until we read the misinformation spread by certain suppliers, stating that you can only be sure that the upgrade mosfets are fitted, if you buy from them, or suggesting that kits bought from China (where all Bafang Kits are manufactured) may not be fitted with IRFB3077 mosfets.
Don't let any delusional/dishonest suppliers, tell you that only their motors come fitted with upgraded mosfets. All 750W BBS02 kits manufactured after ~August 2015 were fitted with these upgraded mosfets and they have a been standard ever since, on ALL 48V 750W BBS02 kits.
Programming the Bafang 48V 750W BBS02 Ebike Kit
Regarding controller hot-rodding. We do not hot rod our Bafang kits (not exactly sure what the hell that is supposed to mean, when all these kits are restricted to no more than 25A). Nevertheless, we do set them to have full throttle in all PAS levels (including 0) and we set no speed restrictions on the kit. This is controlled by the display setting. If you want to program your own settings and even try to "Hot-Rod" your own kit, then you can do so, with the programming lead that we sell here on the site.
Bafang 48V 750W BBS02 Ebike Kit Warranty
EM3ev offer a solid 1-year warranty (not a flaky 3-month warranty like some) on all our products (unless specifically and clearly stated otherwise). We have have local support in the USA, Australia, UK and Ireland. Customers can send problem motors parts to our local support for repair if the issue cannot be resolved remotely.
So, please consider that when making your comparison between suppliers and also consider that we have been supplying ebike parts (and also manufacturing batteries, in our own factory) for around 5 years. EM3ev is operated by an Engineer that actually understands what we sell. EM3ev was built on the back of happy customers and good products, not self-promotion, hype and paid bloggers!
Bafang 48V 750W BBS02 Ebike Kit Features:
The Bafang BBS02 48V 750W Mid-Drive kit with Battery option includes everything you find in the 48V BBS02 Kit, as well as a suitable battery and charger. Some details of the 48V BBS02 kit are:
Motor with integrated 25A, 9 mosfet controller (IRFB3077 Mosfets installed).
The BBS02 motor is intended for the typical 68mm or 73mm bottom bracket. If you are unsure, if your bike is suitable, please read the additional info or send us an email through the contact form.
Additional GearSensor connector on motor.
44T chainwheel and pedal arms (does not include pedals), or optional 42T Bling Ring.
Waterproof interconnecting cabling (E-Bus).
A choice of throttles.
The kits come with a choice of ebrakes and ebrake sensors.
There is a choice of LCD displays (C965, DCP14 TFT).
All the battery choices that we have offered as options, are a good match for the 25A Bafang BBS02 Kit.
Summary: What's Included as Standard
The motor along with the controller
Mounting hard-ware (the 68mm version includes additional longer bolts and spacers for 73mm BBs – these additional items are for the triangular mounting bracket)
E-BUS Harness
Speed Sensor
Factory Cranks
Additional GearSensor Connector – straight from the motor
A choice of chainwheels – this is a mandatory option
A choice of displays – again, this is a mandatory option
Summary: What's Not Included
Battery
Battery charger
Throttle
Ebrakes
GearSensor
Installation tools
Spacer Requests

Requests can be made for spacers via email or through the order notes sections when placing an order. We have a limited supply of 7mm bottom bracket and 1.5mm chainwheel spacers.
Information on the Bafang 48V 750W BBS02 Ebike Kit:
Bafang BBS01/02 Mid Drive Kit Manual
The Bafang C965 Display Manual (3 button type)
Bafang C965 Display Manual (5 button type)
These manual include how to get into the settings and advanced settings menus to change various parameters.
DCP14 TFT Colour Display Manual (our displays are setup with 99km/h max speed limit).
The Eggrider OLED Smart Display is a great choice as it offers Smartphone integration as well as precise info on how your motor is performing with graphed data. It has a whole lot of other features, such as adjusting performance on the fly, that makes this the choice display for the BBS kits.
Installing BBS01/2 onto a 73mm BB Frame
Here you can find out more info on the BBS02 Chainring  and Bling Ring.
Lead-Times For Battery Pack
If we don't have the battery pack already built in stock, the lead time is approx. 5 to 7 working days for us to build one once the order has been placed.
See the Individual Parts Product listing for More Info On Each Item
Shimano M355 Hydraulic Brake Levers Ebrake Sensor
Throttles, ebrakes and switches
47V Preditor Battery Pack Including Dimensions
47V 4P EM3ev Super Shark Including Dimensions
47V 5P EM3ev Jumbo Shark Including Dimensions
50V 4P EM3ev Super Shark Including Dimensions
50V 5p Rectangle Battery Pack Including Dimensions
50V 7p Rectangle Battery Pack Including Dimensions
50V Triangle Battery Pack Including Dimensions
---
Only logged in customers who have purchased this product may leave a review.